Bicycle Accident Lawyer
Michael J. Romano

Bicycle Accident Injuries in North-Central West Virginia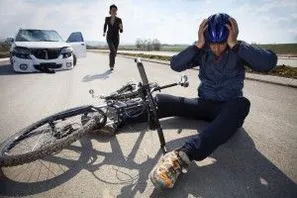 Bicycle accidents are, unfortunately, common. When bicyclists and automobiles collide, the injuries suffered by the cyclist tend to be severe, and in many cases, result in death, disfigurement, paralysis, and/or other permanent disabilities to the bicycle rider.
If you are a bicyclist in West Virginia injured as a result of a careless driver, contact the Law Office of Michael J. Romano for a free consultation. Call 304-624-1100 for an appointment today to discuss your bicycle accident injury.
The Dangers That Bicyclists Face From Motor Vehicles
The following statistics demonstrate the dangers that bicyclists face from motor vehicles when participating in the healthy and environmentally conscious activity of bicycling:
783 people suffered fatalities as a result of bicycle-motor vehicle crashes as of 2017.
Crashes injured approximately 45,000 bicyclists (this figure likely represents as few as ten percent of all reportable bicycle crashes).
Bicycle trips account for one percent of all trips in the US, but account for approximately two percent of all traffic fatalities.
Source: The Federal Highway Administration's Pedestrian and Bicycle Information Center at the UNC Highway Safety Research Center of Chapel Hill, NC

Prejudice Against Bicyclists, Lack of Knowledge, & Incompetence
When bicycles and automobiles collide, the injured rider often faces a multitude of physical impairments aside from the devastating injuries, pain, suffering, loss of work, etc. These obstacles may include:
Prejudice against bicycle riders from motorists, juries, and the general public
The refusal of insurance companies to acknowledge the rights of bicyclists
The general lack of knowledge regarding bicycle operation, components, handling abilities, and value
Incompetence regarding how the law views bicyclists with respect in West Virginia
At the Law Office of Michael J. Romano, we know West Virginia state law and how it pertains to bicyclists. We are also experienced with successfully handling bicycle-related injury settlements and litigation within the court system.
---
The Law Office of Michael J. Romano supports Walk Friendly Communities
If you are a cyclist who has suffered a loss at the hands of a reckless or irresponsible motor vehicle driver, or if you have lost a loved one under similar circumstances, contact the Law Office of Michael J. Romano today to schedule your free consultation: 304-624-1100