Pedestrian Accident Attorney
Michael J. Romano
Serving Charleston, Clarksburg, Morgantown, Parkersburg, & Beyond

Injured in Pedestrian Accident in West Virginia?
Call Michael J. Romano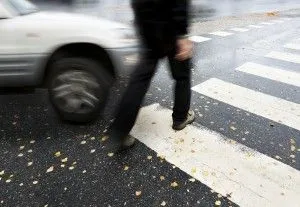 If you are the victim of a motor vehicle-pedestrian accident, contact the Law Office of Michael J. Romano to discuss how we can help you. Attorney Michael J. Romano represents victims of accidents involving pedestrians throughout West Virginia.
Contact the Law Office of Michael J. Romano at
304-624-1100 for a free consultation.
Pedestrian Accident Injuries in West Virginia are on the Rise
Despite making great strides in safety improvements for nearly all groups of travelers, pedestrian accidents have been steadily on the rise. In 2017, there were 5,977 fatalities involving pedestrians.
In addition:

Approximately 61,022 young pedestrians suffer injuries (19 percent of the injured were under the age of 14)
Alcohol use is a major contributor to vehicle-pedestrian accidents
A pedestrian hit by a vehicle traveling at 40+ MPH has an 85% chance of suffering a fatality
Morning and afternoon rush hour are the most dangerous times for pedestrian accidents
Most pedestrian fatalities occur between 5:00 PM and 7:00 PM
Source: National Highway Traffic Safety Administration (NHTSA)
Get Justice and Compensation for Pedestrian Accident Injuries
If you are a pedestrian who suffered injuries as a result of an accident that involved a reckless or careless driver, this may entitle you to financial compensation for your past and anticipated future losses. Some of the factors that will determine how much financial compensation you may receive from the at-fault party include:
The extent of your injuries and any permanent injury
How much (if any) the pedestrian contributed to the accident
Medical bills
Loss of wages
Disfigurement & physical impairment
Pain & suffering
The assets and insurance of the liable party
If you have been hit by a motor vehicle while a pedestrian, contact the Law Office of Michael J. Romano today at 304-624-1100. We will discuss your options and help you determine the best course of action to take following your free consultation.